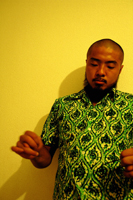 10/9 Shibuya Venue: O-East, NBSA (National Band School Associates)
Japan is often perceived as impossible to penetrate or assimilate within. That is true to a point. However, most just don't know how Japan's society has a facet of every part of the world, including black culture. In so many ways, once you get past the language barriers, Japan seems to have more freedom for Africans than not. There is a continual momentum of fundamental change taking place here that often only music can express.
The nbsa fest was unlike none other, and went on for hours. Triumphant, returning from their magnificant
Fuji Rock Festival
performances, Inushiki ended the 7 hour concert event with an incredible set that left all in awe, friends and fans alike.
("This night has opened my eyes, and I shall never sleep again...")
Inushiki - aka Dogggystyle
-
Life is Beautiful